-- Easy Builder to Create JavaScript Cross Browser Menus!
Sothink DHTML Menu is the most popular JavaScript drop down menu maker currently found on the web. It covers all your DHTML web menu system needs and more. With our brand-new intuitive user interface, it easily creates fully featured cross-browser drop down menus in a visual edit mode. You can generate stylish DHTML menus in minutes with our frequently updated templates. Resource Folder settings and big optimized publishing guide you to add a drop down menu to your pages in a fast and easy way without any hand coding, working both locally and on the web. Free Dreamweaver, FrontPage, Expression Web and GoLive add-ins help you quickly design your menu and integrate it with your existing web site. Sothink DHTML Menu Builder also generates search-engine-friendly drop down web menus, which therefore can be properly indexed by search engines, such as Google.
All licenses allow you to create menus for unlimited web sites.
Now, Those users who want make simple cross browser drop down menus may have a better choice: Sothink DHTML Menu Lite release!


What's New
Tab Menu

is supported. It is a menu type which displays main menu items as tabs. The sub menu items are always displayed on a line below when moving the mouse over or clicking a main menu item

Support setting

background with rounded corner

. Users can choose background images in Background Library or custom the background images as they like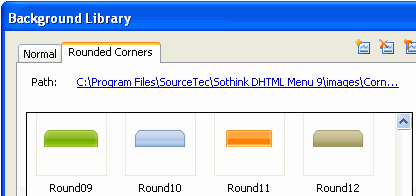 Add new templates and modify the present style in the built-in templates

Sort the images by the use frequency

in all image libraries and the Style panel of Menu Item

Simplify the surround function

by dividing "Popup Menu > Surround" into normal panel and advanced panel. Users can adjust the color, tint & brightness to edit the surround image or choose corners and edges separately.


Modifying the present styles of menu item



Add an option in dialog "Options > General" to sort the styles in Menu Item > Style panel and images in Image Library and Background Library by the frequency.
The files will be displayed as thumbnails when clicking the folder buttons in several panels of the program to browse and choose files in the computer.
Move the option setting in "Global > Menu Type" to "Global > General."
Auto -scroll" is checked automatically in option setting of "Global > General" when choosing "Float" as menu type.
Simplify the operating procedures in image library and sort the images by the frequency .
Optimize the preview window in "Popup Menu > Effect".
Modify the tip text of several buttons on the main toolbar.
Delete 2 buttons on the toolbar of menu tree panel and adjust the order of other buttons.
Fixed bugs:
When inputting invalid value as width in "Global > General" with the option "Stretch whole menu width" checked, the program has failed to react.
When previewing a web page that includes a 2-level menu in Netscape browser, the character "#" has been added to the URL address of this web page automatically after clicking different menu items for several times.
If user set to hide "Flash movie or other ActiveX Object" automatically in "Global > Advanced", Flash movie or other ActiveX Object has failed to be shown correctly in some browsers on MAC platforms.