Have you ever had difficulties while surfing the web using your mobile device? Surfing the web on your mobile phone isn't the same as surfing the web on your desktop computer just because a mobile phone browser sees a website in a different way. The inconveniences are mainly caused by the size of the page that is much larger than your screen. And though more and more people tend to use their portable devices in order to access the Internet anytime and anywhere, still a great number of websites are not mobile friendly.
I have noticed that web masters mainly prefer to use simple HTML codes to make a website to be displayed more or less correctly on mobile screen. But the best solution for it is to create a separate content for mobile phone users, as YouTube and Google have already done it. As the market of mobile devices that are capable of accessing the Internet is constantly growing, this time I decided to write a tutorial on how to create a mobile phone website on the basis of a pre-made web design.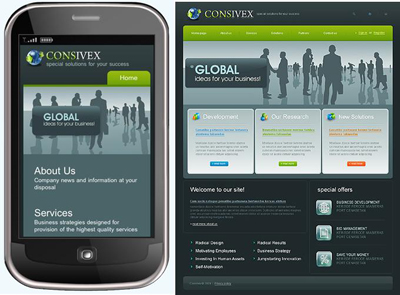 Choosing a template design
The fastest and easiest way to enhance your website with mobile version (if you are not a web designer, of course) is to take an opportunity of the pre-made mobile templates designed specifically for handheld mobile devices, on the basis of which you will create an attractive website. When you start searching for a website template, you will come upon many web page designs. But as usual, I recommend you to review website templates provided by TemplatedBusiness. It offers high quality mobile templates that can be easily customized to meet your project needs.
Mobile templates presented at TemplatedBusiness correspond to the portable devices specific demands for the content and representation of information on the Internet and concentrate on the customers' core requirements both in terms of usability and information. Well, my choice is 24139.

It is characterized by special mobile layout and is extremely light-weight (in several times lighter than usual template). It favours fast upload of the website content to the visitor's mobile phone. As you might already notice, this mobile template is arranged vertically, what makes it look perfectly on the small screen. It is compatible with such platforms as Windows Mobile, Blackberry, iPhone, palm and symbian.
After purchase you will find HTML-version and source PSD file of the main page, fonts which are used in the template and some screenshots in the archive.
Template Customization
Now it's time for the template customization. But if you feel that you don't have enough knowledge or time to go though the whole customization process, you may take the opportunity to use Template Tuning services. Here you can order the template customization at an affordable price. Their web developers will easily and skillfully do all the necessary changes for you. But if you are not afraid of difficulties, then let's go on! As it was said above, we will start from the HTML version.
To perform all necessary modifications you will need Adobe Photoshop CS+; Adobe Dreamweaver 8+ or any other HTML editor. Before you start you should install necessary fonts (usually they are placed in "sources/fonts" folder- in this tutorial you'll find more detailed description. After that open .psd file in Photoshop and let's learn how to make the necessary changes.
The first thing we are going to do is to modify the template header and a tag line. With the help of Horizontal Type Tool enter your company name instead of the default one and change a tag line. If the slice is not long enough and your site title goes out of its limits, don't worry. You may easily resize the slice. For this choose the Slice Select Tool and highlight the logo (mouse left click + CTRL). By mouse left clicking stretch the slice borders.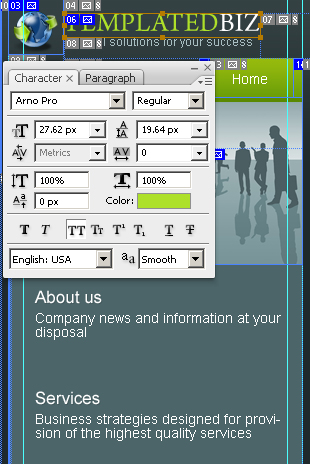 After making all these changes we need to save the customized logo and then replace the existing one. While the slice is still selected, go to "File" -> "Save for Web and Devices". Leave the settings as they are because everything has already been done by a coder. Press the Save button to save files to the Image directory replacing the file company-name.gif.
The next thing that we are going to do is to edit another title on the Home page. Use Horizontal Type Tool.

After you make all changes, you should re-save this design element. Make sure you save this slice on the transparent background. For this deselect the background layers visibility and while the slice is still selected, go to File -> Save for Web and Devices. The file slogan.png in the "Images" folder should be replaced.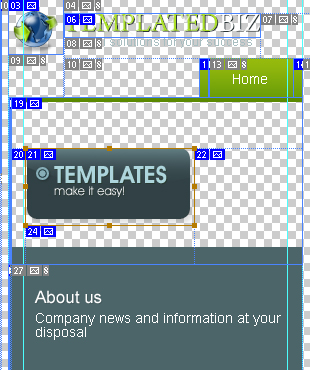 The customization in Photoshop is completed. Before we will go on further, let's check the result. The best way to test the interface is to use Pocket PC (or iPhone, smartphone), but for this you should upload your files on server. You must admit it's rather inconvenient each time when you update file, upload it on server. So, webmasters have found another way to resolve this problem. They prefer to use mobile emulators that offer mobile interface and the ability to navigate websites. That is how my site looks on iPhone 3G tester.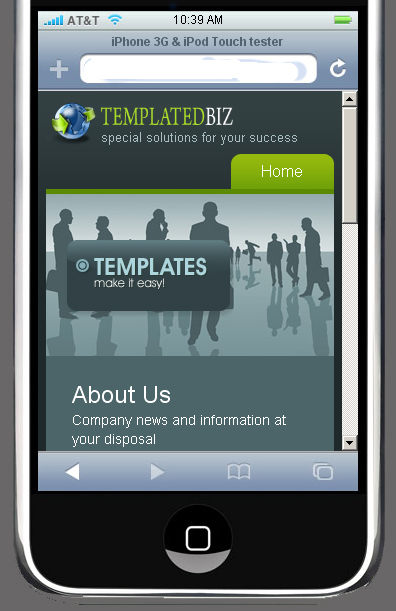 Let's proceed and open HTML editor. Open file index.html and start customizing text. Don't forget to edit your company name in the website footer.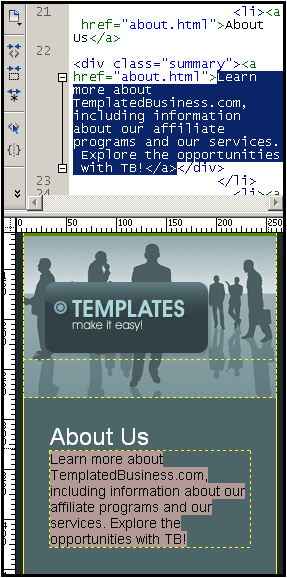 The Home page is ready. Save changes (CTRL+S) and verify the result.

Let's customize the other pages. But before going further, you should define first what parts of the website design you need for your project.
About Us
With the help of HTML editor customize all other texts and footer of this website design. Write down a full description of the products and services your company provides.

The same should be done with the other pages: Services, Solutions, Partners, Contact us and Privacy Policy. All actions should be performed in the same way, so I guess there is no need to repeat what has already been said above.
On the Contact Us page write your postal address and customize the contact form. For contact from implementation you need to have some PHP programming skills and while I don't have them I recommend to order it from TemplateTuning website. They said that it would cost you about $60 - for any type you choose.
Well, the customization is completed. Take a look at the traditional format of this web design and compare it to the mobile format.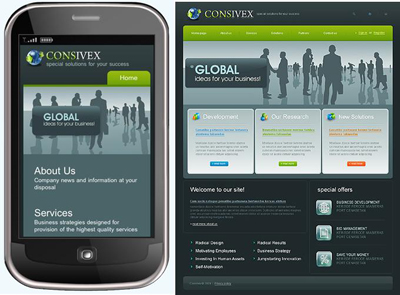 Choosing a hosting provider
When choosing the hosting services you should be guided first of all by other people reviews, prices and quality. On this basis I recommend you webhostingbuzz.com.
If you experience any troubles with registering a domain name or hosting you can always contact TemplateTuning.com professionals.
Website Promotion
You may find a lot of website promotion services all over the Internet. But probably, one of the most reliable among them is website promotion services from Web Design Library. It offers:
- Search Engines Inclusion
- Website Analysis Report
- Keyword Research Report
- Link Building Campaign
- Link Analysis Report
- Search Engine Optimization Report
- Search Engine Rankings Report.
There are two packages:
- Standard package: it would be great for new websites
- Pro package: a complex approach to website promotion.
There is no monthly fee. And by ordering a pro package you will get a 30% discount. Moreover, if you purchase a website template from TemplateMonster.com or TemplatedBusiness, you will get 50% off on the SEO services provided by Webdesign.org. You don't need to learn the secrets of search engines algorithms in order to increase your ranking, because everything will be performed by qualified SEO specialists.
Take my congratulations! From now your website will look perfectly not only on the computer screens, but on your mobile phone as well.
You can visit sample website to see the final result or compare your code.